in·clu·siv·i·ty
the practice or policy of providing equal access to opportunities and resources for people who might otherwise be excluded or marginalized, such as those having physical or mental disabilities or belonging to other minority groups.

"you will need a thorough understanding of inclusivity and the needs of special education pupils"
Origin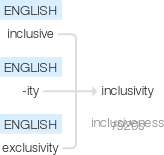 1920s (in the general sense 'inclusiveness'): from 
inclusive
 + 
-ity
, on the pattern of 
exclusivity
.
1.

the state of being diverse; variety.

"there was considerable diversity in the style of the reports"

a range of different things.

plural noun: diversities

"newspapers were obliged to allow a diversity of views to be printed"

2.

the practice or quality of including or involving people from a range of different social and ethnic backgrounds and of different genders, sexual orientations, etc.

"equality and diversity should be supported for their own sake"
Origin

Middle English: from Old French 
diversite
, from Latin 
diversitas
, from 
diversus
 'diverse', past participle of 
divertere
 'turn aside' (see 
divert
).